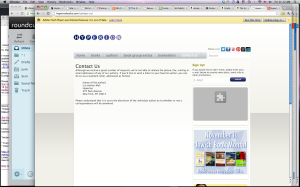 Dear Hyperion Books:
All I wanted to do was to send you a review copy request so I could review "Stirring It Up" by Stonyfield Farm founder Gary Hirshberg. I review books on socially and environmentally conscious business.
I went to your contact page expecting to find a press contact. But all that's there is how to write to you if I want to contact one of your authors directly. There's no way to contact ANY of your departments, except a few social media links.
Oh yes, and from my desktop computer, your Twitter page link goes to one spammy tweet from last November that I don't think is yours. Oddly, on my laptop, it goes to a no-such-account page, as does your Facebook link.
I even went to your bookseller page, where I found a link to the Disney media center–which includes media pages for lots of Disney broadcast properties but not Hyperion.
Surely, with all the resources at Disney's disposal, you could have a person in charge of media contact for Hyperion, and you could list at least one way to contact you that actually works. There's not even a phone number!
In the 21st century, there's absolutely no excuse for companies to barricade themselves behind windowless fortress walls. Empowered customers don't just get mad; they tell their 10,000 closest friends on Facebook or Youtube ("United Breaks Guitars" is up over 14 million Youtube views). If I were a paying customer with a gripe, I'd probably be buying "hyperionsucks.com" right about now.